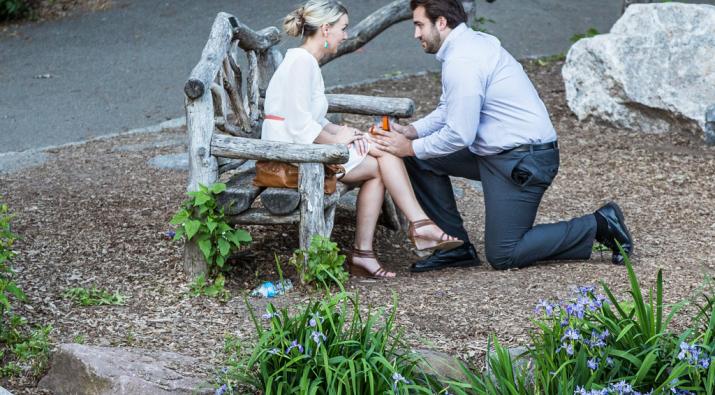 New York City is one of the most popular tourist spots in the world, not only this but it seems that it's also a spot where many would propose the love of their life. The city that never sleeps has a plethora of romantic sites where you can pop the question, whether you are after glitz and glamour or a serene, quieter spot, New York has you covered. Here are some of our top Marriage Proposal Ideas for all those starry-eyed couples:
A rooftop proposal
is an excellent option for those who want a spectacular view of the city's lights whilst they propose. AVA lounge on the terrace of Dream Hotel has an awe-inspiring view of times square that will leave your partner stunned. You could also try Z Roof at Z hotel in NYC, which boasts a 5,000 square foot lounge with a breathtaking view of Queensboro Bridge. Imagine the photos you can take!
Proposing in the park
not only means you are surrounded by the ambiance of nature but also provides a picturesque view for memorable photos by the best proposal photographer. Central Park is, of course, is an ideal option where you can choose to propose on the stunning bridge or under a blooming tree. Bryant Park is another scenic landmark that offers great views and ambiance for the perfect proposal.
The Times-square
is an unmissable spot for proposals! Splurge a little by renting a billboard and having your loved ones' names on it. Carry some tissues as tears of happiness are guaranteed!
Take a ride on a horse and carriage
and surprise your partner with a proposal. Or simply take the ride to a quiet romantic spot and then propose the whole process is a recipe for a successful proposal.
If you are proposing in winter than numerous ice skating rinks are set up around NYC that provide a unique proposal idea.
Looking for the perfect ring?
NYC has you covered with some of the stunning jewelers. Try these awesome places:
Ana Khouri
If you are after a contemporary piece then Ana Khouri offers a rich selection of intricately designed rings that are not only stunning, but are easy on your pocket as well.
Andy Liftshutz
Andy creates artistic pieces that emphasize the importance of the stone. Rocks for your fingers in a very real sense!
AlexixBittar
For those looking for more feminine designs that ooze glamour than AlixisBittar is the place to go. Offering pieces under $500, your engagement will be one thing you don't need to stress about.
Bliss Lau
True NYC lovers will want to make their engagement a memorable affair. What better way than to get an engagement ring inspired by the iconic Brooklyn Bridge? Knock your partners socks off with unique pieces from Bliss.
And welcome to the Vlad Leto site
professional engagement photographer NYC. He can guarantees you the best proposal images before, during and after the main question.
Whatever option you choose to go for, you are guaranteed to make memories to last a lifetime in what some deem to be one of the most romantic cities of the world.